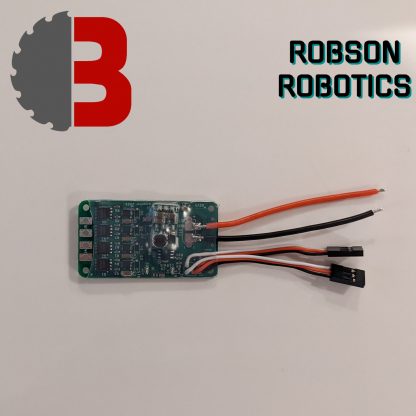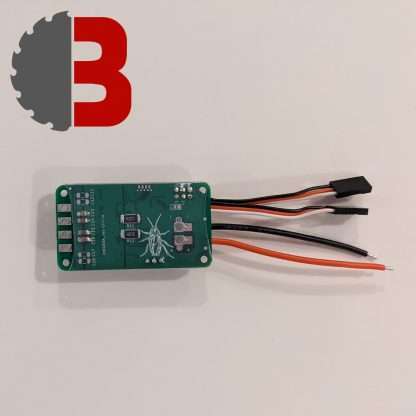 Tarakan Beetleweight Dual Brushed ESC
£33.50
Mark Robson's back! The creator of the Malenki-Nano and Red ESCs is now bringing his awesome custom electronics to beetleweights and we're delighted to stock his new dual brushed beetle ESC – a rare thing at this scale.
Introducing the Tarakan Electronic Speed Controller – a custom designed dual ESC focussed on beetleweight sized robots with some spicy specs:
3-6S lipo support for all kinds of motor types and applications
Dual brushed 12 amps continuous current (and 33A total peak!)
Customisable current limiting to help protect your parts – well suited for high stall current motors (eg – nerf motors)
Customisable automatic shutdown on low battery to prevent damage to lipos
Built in mixing and center braking for a great driving experience
The Tarakan Dual brushed ESC is well suited to providing two or four wheel drive with our beetleweight 22mm motors.
Wiring and setup below. Full Documentation
Out of stock
Lights & Beeps
There are two LEDs lights: D1 is Tarakan power on, D2 shows active drive/braking on motor 1.
There are two motor made beeps on startup – one per drive side. If you don't hear both, a motor may not be connected properly.
Basic Tarakan Wiring Diagram
Typically the servo connectors plug in to channel 1 & 2 on your receiver – On an FS2A 4channel receiver with a mode 2 Flysky i6 transmitter – channel 1 on Tarakan would plug in to receiver channel 1 (AIL – right stick left/right) and Tarakan channel 2 would plug in to receiver channel 2 (ELE – right stick up/down)
Diagram from Mark's Full Documentation.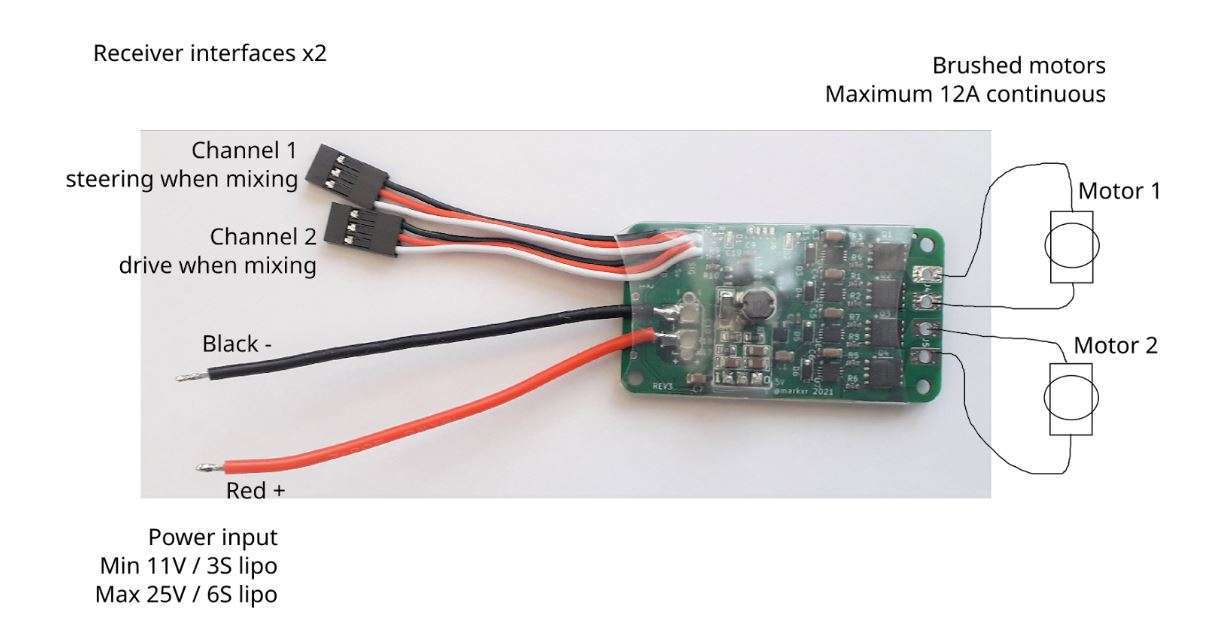 Typical full Beetle Wiring Diagram
In the diagram below the Tarakan would act the two ESCs and the BEC.
We recommend using an external BEC for beetleweight sized servos. (Never use two BECs at once)
If needed, you can disconnect the Tarakan BEC by unplugging both red servo channel cables (see second diagram) You'd still want to connect the Tarakan power input cables to a Removable link, Fuse and LED for a UK legal beetleweight.
Using ESC's internal BEC:
Components in this example: 3S or 4S Lipo, Beetle Safety Kit, Breakout cable, Tarakan as Dual ESC & BEC, BBB 22mm Motors and Flysky Reciever.
Image made by Team DSC.
Using external BEC – ESC's BEC (red servo wires) are disconnected / cut: