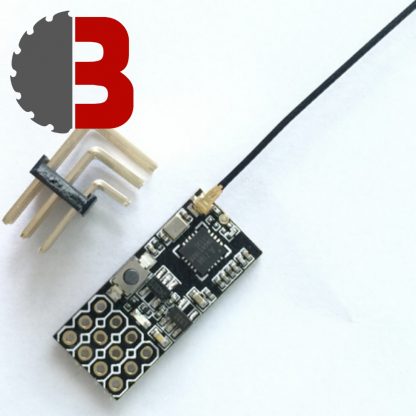 Flysky 4 Channel Receiver
$14.30
4 Channel Flysky receiver FS2A that uses the AFHDS 2A protocol for use with transmitters such as the Flysky FS-i4 & FS-i6. Can also bind with multi-protocol module transmitters that support "FlSky2A", see instructions below. Comes with the servo pins separate from the board, you can solder wires directly to save weight if you wish. Rated up to 10V so can be ran with a 2S lipo (8.4V fully charged) without a BEC. Includes clear heat shrink.
CAD: STEP, SLDPRT. Binding & Failsafing instructions below.


12 in stock
Binding & Failsafing
Binding:
Hold down the bind button on the receiver whilst turning it on with the switch. The blue light should be flashing rapidly, meaning it's in bind mode.
Hold down the bind button on the transmitter while turning it on. You will see 'binding' on the screen
When the receiver is flashing slowly turn the transmitter off and on again.
You should see the blue light on the receiver go solid.
Failsafing (July 2022 and newer models – see below for how to check):
Failsafing is when your transmitter is turned off your robot's drive and weapon will stop. This is an important safety feature. You set the failsafe on the transmitter – you must set each channel individually. Example for FS-i6:
Good video here. With your robot on, go to Menu > System Menu > RX setup > Failsafe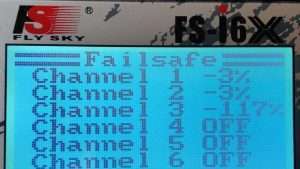 Turn on failsafes for the channels you need – in this example: Channel 1 & 2 for drive are set near middle and Channel 3 in this case is set low for spin up on throttle. Once you've set them up hold down CANCEL to save. Test your failsafes are working (turn off transmitter)
The "all channels" failsafe in the menu will not work for this receiver.
Failsafing (pre July 2022 models – see below for how to check):
Turn on both your receiver and transmitter.
Set your transmitter's right stick to the middle and push the left stick to the bottom.
Hold the bind button on the receiver, the blue light will flash quickly several times then go solid. –Note: this is just the failsafe for this model of receiver, if you have a different one, failsafe setup may be different. There's a failsafe option in the transmitter menu too.
Version change – new and old receivers, multiprotocol transmitters.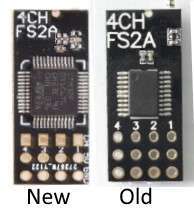 New style receivers have a larger square chip vs smaller rectangular on old ones.
New style (July 2022 onwards) will bind out of the box with Flysky branded transmitters that support AFHDS 2A such as the FS-i6. New style receivers may not bind with multi-protocol transmitters without updating. It's recommended to update your multi-protocol module to at least 1.3.3.23 on transmitters such as the Zorro, but updating my multi-protocol to v1.3.2.86 on my IRX4 / X-lite worked for me when using the "FlSky2A" setting to bind as instructions above – Joe.