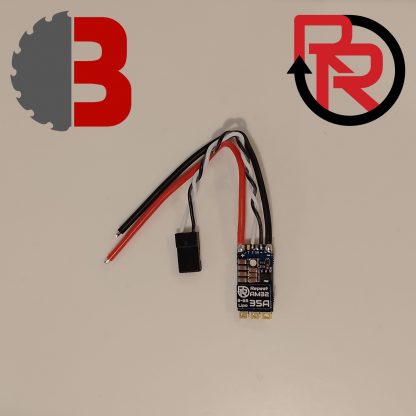 Repeat AM32 Brushless Drive ESC
$39.00
Repeat Robotics' new AM32 ESC – a 35A 3-6S brushless ESC running AM32 firmware pre-programmed for drive.  AM32 is particularly good at motor control at lower speeds helping you get the best performance out of your drive – it's well suited to beetleweight brushless drive with motors such as the Mega Spark, Repeat Max or DIY solutions with the 1806 brushless motor – see this great tutorial.
Use with 3.5mm bullet connectors for easy connection to Mega Spark Motors.
Package includes clear heat shrink and a capacitor to add to power leads for 6S operation.
Brushless beetle drive wiring diagram below. 
8 in stock
Beetle Brushless Wiring Diagram

Components in this example: 3S or 4S Lipo, Beetle Safety Kit, Breakout Cable, AM32 brushless drive ESCs, Repeat Max's, BEC and Flysky Reciever.
Image made by Team DSC.