BBB Beetleweight 940rpm Planetary 22mm Gearmotor
£16.50
19th July: We've secured a new manufacturer and new motors are being manufactured as we speak, due towards the end of August. Thank you for your understanding 🙂
BBB Beetleweight Planetary 22mm 16:1 Gear Motor well suited for combat robot situations.
Custom manufactured to our specifications
All metal geared planetary gearbox with grease
Solid construction, thick gears
All screws set with thread locker
10g lighter than standard 25mm beetle motors.
More robust gearboxes than standard 25mm beetle motors
Similar spec to 22mm gearmotors seen in american robot kits but at a much lower price
Recommended to run at 3S, but ran on many bots at 4s, but this may reduce longevity!
We've created the BBB 4S 8A ESC, with two and four wheel drive setup of this motor in mind.
3D model of the motor by THE Tom Brewster: step, stl. Thanks Tom xox
Fusion 360 model of the motor: f3d by Felix Townsend, cheers boi x
We recommend face mounting the motors with our nylon mounts and a 22mm hole in some HDPE.
Mounting example & example bots below!
Out of stock
Example mounting
from Igor (J-LGames):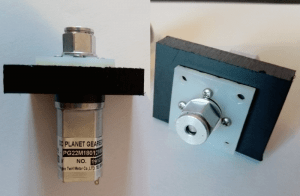 As ran in the following robots at BBB Beetle Champs (and many more!) Left to right:  Super Snappy, Drizzle 3, Rev 4, Grab Crab, Byte Sized Trauma, Maximum Ogredrive, Rust in Pieces: