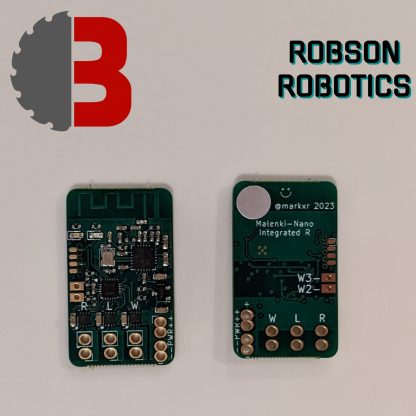 Malenki-Nano Antweight ESC & Receiver
$29.90
We're delighted to stock Mark Robson's Malenki Nano ESC & Receiver. For newer builders or those not comfortable with soldering, we recommend the pre-soldered BBB Dual Ant ESC. The Malenki-Nano is full of great features in a tiny package:
Small and lightweight at 32x19x2.5mm and 2.3g
Three 1.8A brushed channels (two for drive with mixing & center braking, one for weapon) – each channel is capable of driving one N10 or two N20s.
Built in AFHDS 2A (flysky) receiver to save weight and space
Two PWM channels for servos or brushless ESCs
Driving invert mode – can switch forwards/backwards on transmitter switch when robot is upside down
Telemetry – battery voltage information sent to transmitter
Automatic shutdown on low battery to prevent damage to lipos
August 2021 update: servo stretcher mode – see documentation!
March 2022 update: Low voltage cutoff now 2.8V per cell. Improved radio reliability & telemetry.
June 2022: Now comes with included clear heat shrink!
Want higher voltage & current output? Want to drive 4 x N10s? Check out the Malenki-HV!
Receiver uses AFHDS 2A protocol – recommended transmitters: Flysky FS-i6 or transmitters with multi-protocol modules (set it to FlSky2A)
Wiring, setup, binding and usage diagrams below. Useful links: Full Documentation, GitHub, STEP CAD, F360 CAD (pre Feb '23)
Out of stock
Binding & Setup
To Bind: Out of the box it will enter bind mode on power on (flashing blue light). When bound, the flashing LED will stop, you may then need to power cycle Malenki-Nano.
To Rebind: power on Malenki-Nano with your transmitter off and wait 90 seconds for flashing blue light.
Setup:
Solder motors (L to left side drive, R to right side drive, W to brushed weapon if needed) and power connector to PWR + & – on the Malenki-Nano.  (JST connector and switch recommended) See diagram in the image gallery above.
For servos/brushless ESCs, solder the signal cable to one of the PWM pads and power them off the power rail if voltage is supported (some servos don't run above 6V so you may need to add a BEC to lower voltage). These are Channel 4 and 6. Diagrams below!
Power it on, (red light for power) bind to your transmitter (blue light for bind) and test motors – channel 1,2,3 to see if behaving as expected.
It's then highly recommended to heat shrink, kapton or electrical tape the Malenki-Nano to lower risk of short circuiting the board.
In Configuration mode you can use channel 5 to invert or swap channels, disable mixing, braking and enable servo stretching. See Full Documentation.
Soldering a servo or brushless ESC:
Solder the signal wire (orange or white) of your servo or ESC to the WEAPON2 or WEAPON3 pad.
Solder your servo or ESC positive power (red) to PWR+ and negative power (brown or black) to PWR-.
Wiring with our High Voltage Metal Geared Servo and with Antweight Spinner Electronics: