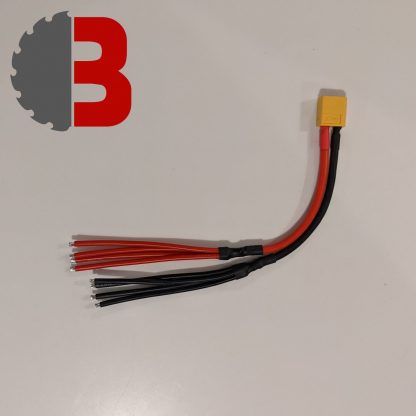 Breakout Cable with XT60
$5.85
Great for wiring up beetles and lower current feathers too – this is a cable that goes from an XT60 connector to four red and four black wires for powering your drive ESCs, weapon and BEC (see wiring diagram below).
Custom made loom with:
XT60 male connector to two 100mm of 12AWG silicon wire
eight 85mm 16AWG silicon wires with 5mm of pre-tinned end ready for soldering.
If you're working with less current or on a smaller robot check out the XT30 breakout cable!
12 in stock
Wiring Diagram
Typical Beetle / Feather  Wiring Diagram with this breakout cable for two or four wheel drive:
Components in this example: 3S or 4S Lipo, Beetle Safety Kit, Breakout Cable, BBB ESCs, BBB 22mm Motors, BEC and Flysky Reciever.
Image made by Team DSC.