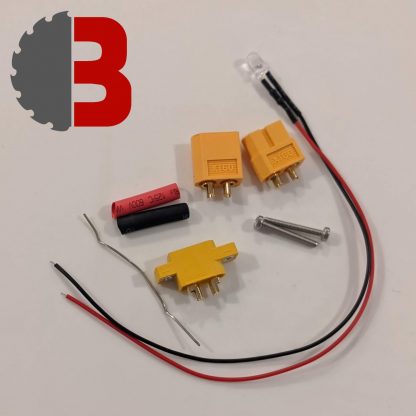 XT60 Safety Kit
From £3.00
A great kit to add all the essential safety features to your beetle or feather- link, fuse and power light. Includes:
A XT60 connector with built in captive nuts (23.4mm apart) for easy mounting into your beetle's chassis as the link connector – see store page for dimensions and CAD. Note: Now sold in yellow with gold plated connectors for improved soldering experience.
2 x M2.5 14mm screws for mounting the XT60 to your robot
A pair of XT60 connectors – one to use as the removable link
Heat Shrink for the connector ends
30A fuse wire (beetles) / 60A fuse wire (feathers) to easily add a fuse as part of your removable link – just solder it across the XT60 terminals.
12V white LED or LED strip for use as a power light.
CAD models:
XT60 mount: STEP, iges – thanks Rob!
XT60 mount with XT60 link plugged in: STEP – thanks Tom!
XT60 pair plugged together: STEP – thanks Tom!
Wiring diagram below.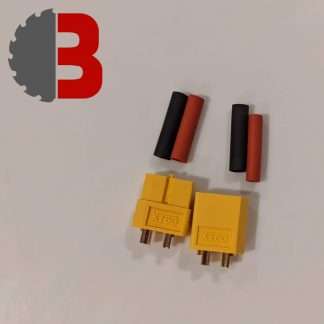 Safety kit example circuits
Same for XT60s as XT30s 🙂

Typical Beetle/Feather Wiring Diagram using the safety kit:
Components in this example: 3S or 4S Lipo, Beetle Safety Kit, Breakout Cable, BBB ESCs, BBB 22mm Motors, BEC and Flysky Reciever.
Image made by Team DSC.