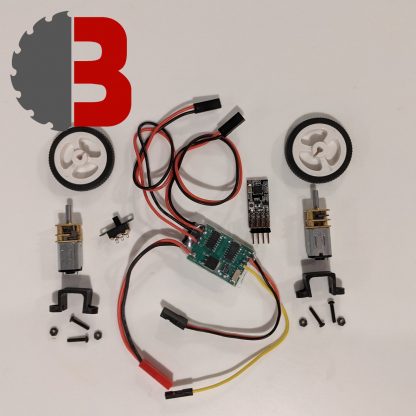 Antweight Drive Kit
From $31.20
Please read our Antweight Drive Kit Build Guide for how to use.
With our BBB Edition Dual ESC v3 with custom firmware for an improved driving experience here is our antweight drive kit which we think is the best and most affordable way to get into ants!
All the main parts you need to build a driveable antweight combat robot, just add a battery and transmitter! Select a receiver from the dropdown below or add your own. We recommend getting a 2S 120-300mAh lipo battery and a FlySky i6 Transmitter.
Any issues or questions during the build, you can email us at bristolbotbuilders@gmail.com or message us on facebook, we'll be happy to help.
Wiring diagram & receiver guide using components in this kit below.
Add Connectors:
If you want to need to run another power line to power a third ESC or a high voltage servo.
Add a Receiver:
The Flysky receiver is intended for the Flysky FS-i6 and other AFHDS 2A transmitters, please check your transmitter supports this before purchasing.
Add a Servo:
120 degree rotation for weapons such as flippers, grabbers, lifters etc!
Add a USB 2S Lipo Battery Charger:
Add Polycarbonate:
Bend and cut to form a chassis.
Antweight Dual ESC Wiring diagram using components in this kit:

Components in this example: 2S lipo, JST connector, Switch, BBB Dual ESC, N20 Motors, Flysky Receiver.
Image made by Team DSC.
Receiver connectors on Dual ESC:
Receiver Connectors (with signal mixing on by default):
On one servo connector:

white wire drives left/right on the motors
red wire provides the positive rail of the BEC at 5V (+VE)
black wire provides ground (GND)

Separate yellow connector: drives forwards/backwards on the motors.
Example receivers/transmitters below – note your receiver & transmitter may have a different layout to this!
On an FS2A 4channel receiver with a mode 2 Flysky i6 transmitter:
the white connector would plug in to channel 1 (AIL – right stick left/right)
the yellow connector would plug in to channel 2 (ELE – right stick up/down)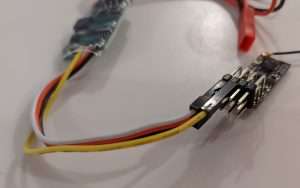 For a DSM2 receiver with a DEVO 7E transmitter:
white wire (left/right on the motors) plugged in to channel 2 of a DSM2 receiver which by default on our Devo 7E transmitter is left/right on the right stick (AIL) On the same connector the red wire connects to +VE and black wire to GND (as the BEC) powering our receiver.
yellow wire (forwards/backwards on the motors) plugged in to channel 3 which is up/down on the right stick (ELE) .