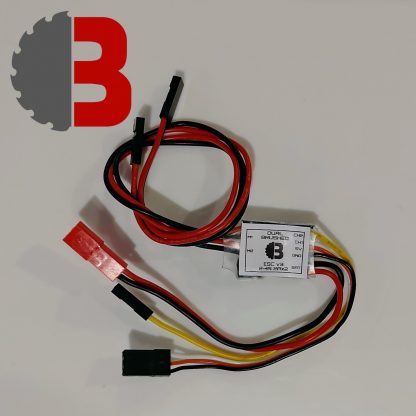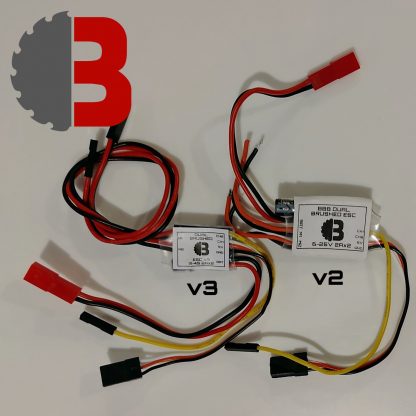 BBB Edition Antweight Dual ESC v3
$16.25
BBB edition antweight dual brushed ESC – improving the driving experience and specs for ants! This version 3 is over 40% smaller and over a gram lighter (most of the weight is the wires still!) than v2, but with all the great specs! How to connect up & wire ESC below. Please read our Antweight Drive Kit Build Guide for step by step wiring guide.
Custom firmware with center braking for greatly improved driving experience

ESC actively brings motors to a stop when the sticks are centered for better control.

2-4S support input for higher voltage applications
Weighs only ~7g including all pre-soldered connectors with the motor wires cut to length

can save quite a lot of the weight by shortening wires, removing connectors

Built in 5V 1A BEC for receiver and servos!
Built in drive mixing with a solder jumper to enable independent drive if you prefer
the only soldering required is to the motor terminals, otherwise it's plug and play! (see below)
Typical Setup: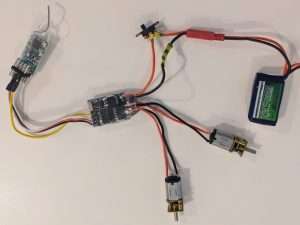 N20 Motors, Power Switch, 4 channel receiver, 180Mah 2S lipo.
90 in stock
Antweight Dual ESC Wiring diagram using components in this kit:

Components in this example: 2S lipo, JST connector, Switch, BBB Dual ESC, N20 Motors, Flysky Receiver.
Image made by Team DSC.
Receiver connectors on Dual ESC:
Receiver Connectors (with signal mixing on by default):
On one servo connector:

white wire drives left/right on the motors
red wire provides the positive rail of the BEC at 5V (+VE)
black wire provides ground (GND)

Separate yellow connector: drives forwards/backwards on the motors.
Example receivers/transmitters below – note your receiver & transmitter may have a different layout to this!
On an FS2A 4channel receiver with a mode 2 Flysky i6 transmitter:
the white connector would plug in to channel 1 (AIL – right stick left/right)
the yellow connector would plug in to channel 2 (ELE – right stick up/down)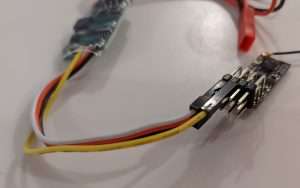 For a DSM2 receiver with a DEVO 7E transmitter:
white wire (left/right on the motors) plugged in to channel 2 of a DSM2 receiver which by default on our Devo 7E transmitter is left/right on the right stick (AIL) On the same connector the red wire connects to +VE and black wire to GND (as the BEC) powering our receiver.
yellow wire (forwards/backwards on the motors) plugged in to channel 3 which is up/down on the right stick (ELE) .