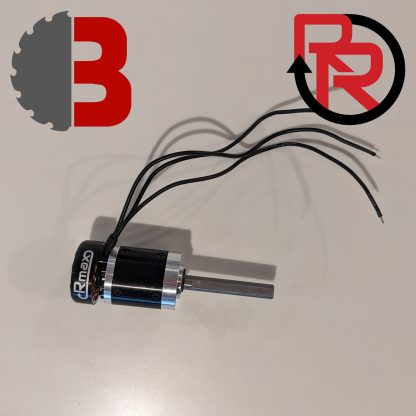 Repeat Drive Max Brushless Planetary 24mm Gearmotor
$71.50
Great plug & play powerful and robust beetleweight brushless drive. Custom wound 2100kv 2004 brushless motor – works great with BBB brushless drive ESCs or Repeat AM32 ESCs!
All metal geared 24mm planetary gearbox, billet steel final planet carrier & output shaft – extra length for bearing support or use rotary tool to cut off excess to save weight. Mount with Mega Spark Face Mounts and M2x5mm countersunk bolts. We stock 6mm twist hubs for easy wheel attaching! Geared for speed and power, we recommend running smaller wheel sizes or an extra reduction stage, particularly at higher voltages. CAD: STEP file (thanks Rob!)
Motor drawing, brushless beetle drive wiring diagram & battle hardening info below.

10 in stock

Beetle Brushless Wiring Diagram

Components in this example: 3S or 4S Lipo, Beetle Safety Kit, Breakout Cable, 20A brushless Drive ESCs, Repeat Max motors, BEC and Flysky Reciever.
Image made by Team DSC.
Battle Hardening
From FingerTech:
As with every gearmotor, it is best practice to remove all the screws and reassemble using loctite. A small dab on each screw will be enough to keep them from vibrating loose.
– Since the gearboxes are packed with grease, it will need to be cleaned off of the eight small Phillips screws before applying the loctite.
– Even better than loctite is a product called Vibra-Tite VC-3. Apply it to the screw threads, wait 30min, and it will harden to a plastic-like coating. Since it hardens before touching the greasy gearbox threads, it can do a better job of holding the screws in place.