N20 with Built in ESCs Antweight Kit
From £31.50
April 2021: We're phasing this kit out – our new ant drive kit now uses a BBB Edition Dual ESC for improved performance and reliability.
Please read our N20 with Built in ESCs Build Guide for how to use.
All the main parts you need to build a driveable antweight combat robot, just add a battery and transmitter! Select a receiver from the dropdown below or add your own. We recommend getting a 180mAh 2S lipo battery and a FlySky i6 Transmitter. We've made a build guide to help you build this kit into a robot.
Any issues or questions during the build, you can email us at bristolbotbuilders@gmail.com or message us on facebook, we'll be happy to help.
While the manufacturer rates these ESCs for 10V,  we've found they're best paired with a BEC so they're ran at 5V for longevity. The motors have built in electronic speed controllers (ESCs) so can be plugged straight in to the receiver. You can add an on/off switch with the included JST connector and switch. Build a basic chassis by bending and cutting the polycarbonate then mount down the motors with the included motor mounts.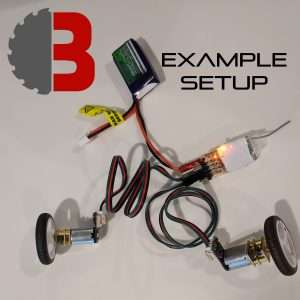 Note: If you plan to use your own receiver (not from BBB shop) please ensure it supports at least 8.4V input (a fully charged 2S lipo), or if it doesn't please connect a BEC between your battery and receiver.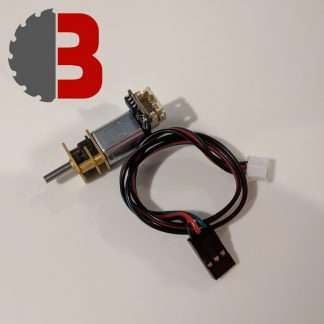 2 × Antweight N20 Gearmotor with built in ESC
Add a BEC:
If you are using your own receiver and it doesn't run above 8.4V, add a BEC.
Add a Receiver:
The Flysky receiver is intended for the Flysky FS-i6 and other AFHDS 2A transmitters, please check your transmitter supports this before purchasing.
Add Polycarbonate for Chassis:
Add a USB 2S Lipo Battery Charger:
Out of stock