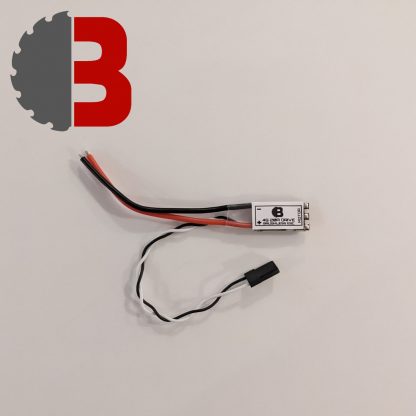 20A Brushless Drive ESC
£12.50
20A Brushless ESC programmed by us for drive – snappy forward / braking / reverse.
Small dimensions and weighs only 5g – suited to beetleweight brushless drive with motors such as the Mega Spark or DIY solutions with the 1806 brushless motor – see this great tutorial.
Use with 3.5mm bullet connectors for easy connection to Mega Spark Motors.
14th Feb 2023: New PWM Range – min 1000, center 1500, max 2000 – for easier arming.
(pre 14th feb ESCs values: mix 1148, center 1488, max 1832)
Brushless beetle drive wiring diagram below.
20 in stock
Beetle Brushless Wiring Diagram

Components in this example: 3S or 4S Lipo, Beetle Safety Kit, Breakout Cable, 20A brushless Drive ESCs, Mega Sparks, BEC and Flysky Reciever.
Image made by Team DSC.