BBB Edition Antweight Dual ESC
£12.00
We've teamed up with the manufacturer of the great antweight dual brushed ESC to make a BBB edition to improve the driving experience and specs for antweights & bodgebots!
Custom Firmware with centre braking for greatly improved driving experience – ESC actively brings motors to a stop
2.7A per side up from 1.8A (6A peak up from 3.5A) so you can run more motors or larger ones! – Ideal for yellow bodgebots motors as well as multiple N20s.
Still weighs only 10.5g including all pre-soldered connectors and wires
Built in mixing with a switch to enable independent drive if you prefer
the only soldering required is to the motor terminals, otherwise it's plug and play!
Typical Setup: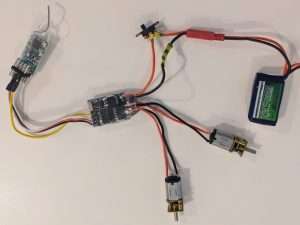 N20 Motors, Power Switch, 4 channel receiver, 180Mah 2S lipo.
How to connect up / wire ESC below.
69 in stock
Wiring / Connecting up Dual ESC:
Receiver Connectors (with signal mixing on by default):
On one servo connector:

white wire drives left/right on the motors
red wire provides the positive rail of the BEC at 5V (+VE)
black wire provides ground (GND)

Separate yellow connector: drives forwards/backwards on the motors.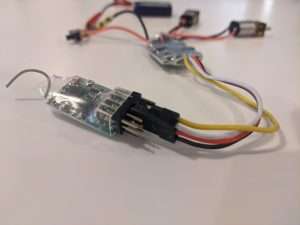 In this picture we have:
white wire (left/right on the motors) plugged in to channel 2 of a DSM2 receiver which by default on our Devo 7E transmitter is left/right on the right stick (AIL) On the same connector the red wire connects to +VE and black wire to GND (as the BEC) powering our receiver.
yellow wire (forwards/backwards on the motors) plugged in to channel 3 which is up/down on the right stick (ELE) .
Note your receiver & transmitter may have a different layout to this!
On an FS2A 4channel receiver with a mode 2 Flysky i6 transmitter the white connector would plug in to channel 1 (AIL – right stick left/right) and the yellow connector would plug in to channel 2 (ELE – right stick up/down)