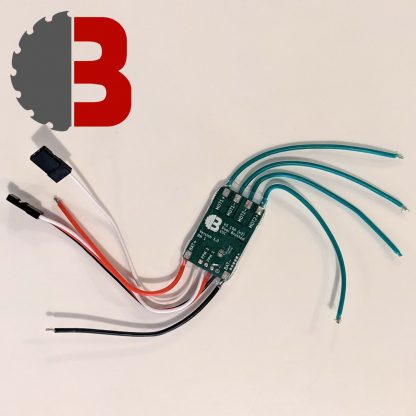 BETA RUN: BBB Beetleweight Dual Brushed ESC v1
£30.00
Designed and assembled in house by our very own Gareth we're very excited to make our totally custom beetleweight brushed ESCs in new dual form! – Literally consider this two of our BBB ESCs in one package with built in mixing too! All the specs you need in a brushed ESC – centre braking, safe start, failsafing, current limiting, higher voltage support, built in BEC and of course the signature startup tone! This ESC will happily run four brushed 22mm or 25mm motors! Pairs well with our BBB 22mm Planetary Gearmotors at 3-4S lipo for 2 or 4 wheel drive. LED, mixing, beep & wiring instructions below.

4S lipo support – can happily run 4 x 25mm motors at 3S, 6 x 22mm motors at 4S
Small and lightweight at 10g – can save weight by shortening wires
Current limiting – high current motors (eg – nerfs) shouldn't blow up the ESC
Center braking –  brakes motors when the sticks are centered for better control.
Failsafing – no unexpected movement when transmitter is off / loses signal
Safe start –  stick must be centered to arm (short beep/flash until stick is centered)
Built in BEC – enough current to power a receiver, use external BEC for servos etc
Also a great option for brushed weapons such as 37mm motors for lifters/axes/grabbers.
From 17th May (labelled BN2) – new adaptive current limiting – will give 10A for 2-3 seconds and ramp down to around 4A after 10 seconds.
Do not use two BECs at a time – more info on this below.  Beta run: to hunt for any firmware bugs – they've worked great in testing. 

16 in stock
LED indicator light & beeps:
Start up beep = ESC has just powered on – it is receiving power and is connected to motor(s).
Solid LED = Powered on. Receiver ready, ESC is armed.
Flash & beep with short gap = Powered on. Throttle isn't centred.
Flash & beep with long gap = Powered on. No receiver signal.
Driving & Mixing
By default mixing is enabled on this ESC – the servo connectors drive the following:
– CH1 is steering (turning left/right)
– CH2 is drive (forwards/backwards)
These match nicely with the defaults of the  FS-i6 transmitter + flysky receiver (CH1: AIL, CH2: ELE)
If your turning or driving is backwards on your transmitter, you'll want to reverse the appropriate channel above.
If you want to disable mixing, there's solder pads labelled on the back of the ESC – you want to create a solder bridge between them (and then re-heatshrink the ESC) Each servo connector will control one drive side and you'll need to set up your own mixing – see our guide.
Do not use more than one BEC at a time  – see both diagrams below:
This dual ESC comes with a built in BEC perfect for powering your receiver.
If you're powering a servo or other higher current components, use an external BEC:
Unplug the ESC's red servo wire, we recommend cutting this wire (or taping over the metal connector) to prevent risk of shorting.
Typical Beetle Wiring Diagram using these ESCs:
Please note:  We don't recommend running 25mm motors above 3S, however our 22mm Planetary Gearmotors will run 4S lipos. Typical Beetle Wiring Diagram for two or four wheel drive:
Using external BEC – ESC's BEC (red servo wire) are disconnected / cut:

Components in this example: 3S or 4S Lipo, Beetle Safety Kit, Breakout cable, BBB ESCs, BBB 22mm Motors, BEC and Flysky Reciever.
Image made by Team DSC.
Using ESC's internal BEC: