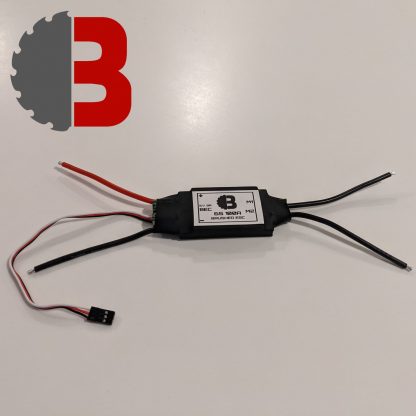 BBB Featherweight Brushed ESC v2
$41.60
v2: slimmer & lighter form factor, pre-programmed with center braking! 
This ESC is designed to easily run one 775 or two 550 style drill motors or one scooter motor (for axes etc) at up to 6S with 100A peak, it's a great value featherweight drive ESC.
6S lipo support – we recommend 3-5S for our 18V drill motors
Only 52g in weight & 13mm at max thickness for easily fitting in tight spaces!
Can drive two 550 drill motors per ESC – two of these ESCs are well suited for 2 or 4 wheel drive.
Center braking  for improved driving experience
Failsafing – no unexpected movement when transmitter is off / loses signal
Safe start –  stick must be centered to arm
Built in 5V 3A BEC – for powering receivers etc.
Do not use two BECs at a time –  if using two ESCs cut the red servo connector wire on one of them, if using an external BEC, cut both. Circuit diagrams below.
LED & Wiring Instructions below. v1 Fusion 360 CAD file from Jeremy, thanks!
These ESCs are used reliably on many featherweight robots, for example: drill drive on Couch Potato XL, Mucha Lucha, Kyrkja and scooter weapon motor on Dullahan, Untitled Goose Robot and Grab Crab XL.

30 in stock
LED indicator light:
Solid = Powered on. Receiver ready.
Intermittent Flash = Powered on. Throttle isn't centred.
Continuous Flash = Powered on. No receiver signal.
Wiring:
Solder the two black wires (labelled M1&M2) to the tabs of your drive motor(s).
Solder the red wire (labelled +) to your positive line and adjacent black wire (labelled -) to your negative line.
Connect the servo connector to your receiver – note only use one BEC, so cut red wire on servo connector of one ESC if using two, or cut both and use an external BEC (recommended) – see diagrams below.
Switch: (only on v1 ESC, not the new v2s!)
(after changing switch position power cycle ESC to enable) 
Left = No braking
Middle = Centre braking (our preferred setup for driving featherweights)
Right = RC Car style braking (not recommended)
Typical Wiring Diagram for Beetles / Feathers
Using external BEC – ESC's BECS (red servo wire) are disconnected / cut:
Image made by Team DSC.
Using one of ESC internal BECs – other ESC's red servo wire is disconnected / cut: