Sale!
Antweight N20 Gearmotor with built in ESC
Please read our N20 with Built in ESCs Build Guide for how to use.
N20 30:1 gearmotor with a built in speed controller.
Takes away the need for an external speed controller or soldering – you can plug these directly into the receiver!  Save on weight and wiring from a typical antweight setup.
Comes with:
1 x motor with built in esc
1 x 3 pin cable for motor.
While the manufacturer rates these ESCs for 10V,  we've found they're best paired with a BEC and ran at 5V for longevity.
You'll need to make sure your receiver supports 2S (up to 8.4V) to connect your lipo directly: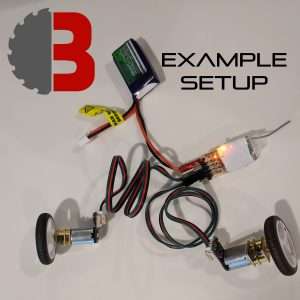 If you plan to use your own receiver (not from BBB shop) please ensure it supports at least 8.4V input (a fully charged 2S lipo), or if it doesn't please connect a BEC between your battery and receiver.
We'd recommend adding a JST input with a switch from the receiver to the battery for safer plugging in and powering on and off.
You'll need to setup mixing on your transmitter – Mixing Guide
Out of stock
Email when stock available